Spanish Programs
Hola! Spanish is one of the fastest growing second language programs in the province of Alberta and one of the most spoken languages internationally with over 500 million speakers worldwide. We are very proud to offer 2 language streams here at Strathcona High School. Spanish Language and Culture 3-Y program is designed for beginning level students and Spanish Language Arts 10, 20, 30 for students who are coming from the Spanish bilingual program or who are native speakers of Spanish. All language students will develop and continue to enhance their proficiency in all four language skills: oral and written production and reading and listening comprehension.
The Spanish Language and Culture stream is intended for students who have had little or no previous instruction in Spanish. These courses are designed to allow students to communicate orally in Spanish and to attain an understanding of a variety of grammatical structures. The focus is on building the students' confidence while using the language in everyday situations. Through the use of a variety of videos, movies, music, texts and audio tapes students are also exposed to different aspects of Hispanic cultures around the world.
The Bilingual Spanish stream is intended for students who have completed the Spanish bilingual program from grades 1 to 9 or who are native speakers of Spanish and are fluent in the language. Teacher assessment and authorization are required for native speakers. Students will be exposed to authentic resources in art, film, literature and current events in the context of Hispanic cultures in both Latin America and Spain. Students will be asked to think critically about and discuss issues related to the topics and texts discussed in class. Students will use Spanish to interact and produce clear texts on a wide variety of topics including art, history, literature and current events. Students will also be exposed to a variety of authentic texts, guest speakers, online blogs with international schools and participation in local culture events will be emphasized.
Students in the bilingual program will also take Social Studies 10 AP in Spanish concurrently with the SLA 10 course. International accreditation will be offered to Bilingual program students during their final year of the program: The Spanish AP Language and Culture exam and the DELE language proficiency exam.
All students will have the opportunity to participate in the many travel opportunities offered by Strathcona High School and the province of Alberta. We have annual international trips (Costa Rica, Cuba, Spain) that allow students to practice their language skills first hand, plus we have our provincial exchange programs with the province of Asturias, Spain and Guadalajara, Mexico.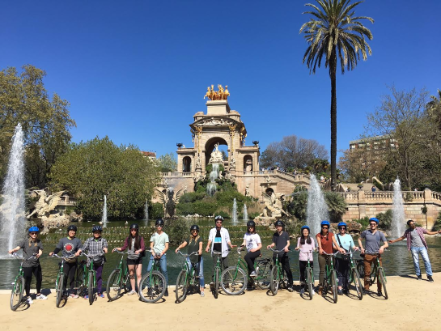 Bike tour in Barcelona